Hey folks - it's time for another POL vote to utilize the assets in the DAO Fund. As a reminder, Karma is currently ongoing and we'll have POL in the BTC/bnUSD and ETH/bnUSD pools once that is completed.
In the mean time, we have sICX and bnUSD that is idle in the fund. Generally speaking, my thought is to keep ~200k in stablecoins to pay for any operational costs (audits, new features, smart contract upgrades, etc.) over the next year, but outside of that we have ~500k bnUSD and ~280k sICX tokens.
I like to take things one step at a time, so want to focus on the sICX tokens we have first, then discuss what to do with the bnUSD in a separate proposal. From a high level, my thought would be to use it to purchase BTC, ETH and/or sICX as those are the primary arbitrage pairs.
For the sICX we currently have, my proposal is to use all 280k tokens and pair it against BALN in order to increase the liquidity for BALN. Two key reasons:
1.) Lower slippage - Currently, a 40k ICX trade for BALN (~10k USD) has a pretty substantial price impact, which isn't ideal for investors. Let's compare that to a 10,000 USD trade for a comparable app-token on Fantom (SpookySwap $BOO tokens). The price impact for BALN is over 10x worse. This discourages anybody from taking large positions.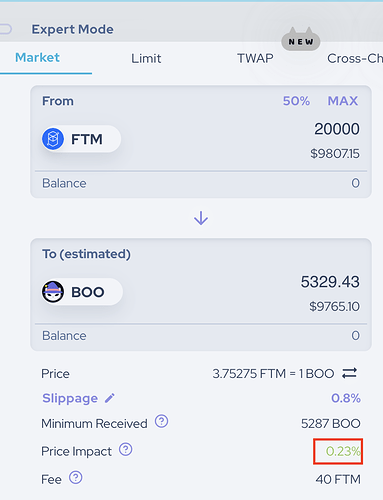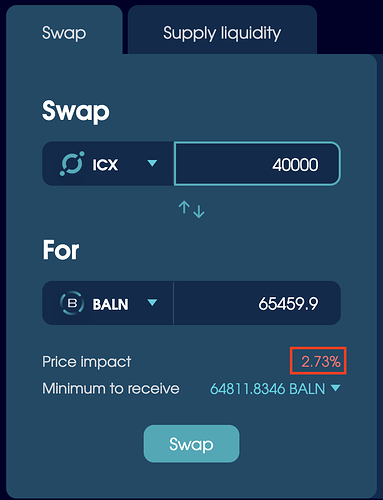 2.) Auto-purchase BALN - the cool part of increasing liquidity of BALN/sICX specifically is that sICX automatically earns ICX staking rewards, therefore the more sICX liquidity in this pool, the more ICX staking rewards are used to market-buy BALN on behalf of liquidity providers.
3.) Lower BALN Inflation - BALN/sICX is currently one of the most heavily incentivized pools, receiving ~675 BALN inflation per day. If the DAO Fund becomes an LP, it earns back a good portion of the daily inflation allocated to this pool. From our other POL initiatives, we've already earned back 14,000 BALN that would have been given away for free to LPs.


---
Given the above explanation, my proposal is as follows:
Deposit 280,000 sICX and the corresponding amount of BALN into the BALN/sICX pool as protocol-owned-liquidity